Hello! My name is Thomas and I am a boy of seventeen who lives in Fano, a city in the province of Pesaro and Urbino, in Italy. In this site you'll find all the information about me and my hobbies and passions.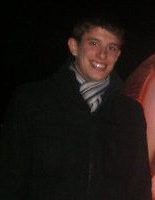 As for the "school life", I'm attending the fourth year at
Commercial School
. This summer, thanks to a school project, I went three weeks in Hastings (England) for a study-holiday. It was a fantastica experience!! In June, instead, I worked in a bank in an internship. I've already try this experience and I loved it!
My greatest passion was born when I was little, that is referee. In
this page
, you can find all the information about my favorite hobby. However, I also like going out with friends, going to cinema, watching TV. I'd like to grow up to be a journalist or Tv host. I am also interested in politcs: three years ago I created with my friends "the Virtual Parliament", a web institution where all young people (through parties invented) could exchange views on various issues.
Browsing the site you will find curiosity, see photos and more